Fashion design is a field that is constantly evolving, which makes it an exciting and challenging field to study. There are many different fashion design courses in Kolkata, each with its own unique curriculum.
If you are considering studying fashion design in Kolkata, it is important to research the different courses available and find the one that best suits your interests and goals. In this article, we will provide an overview of the eligibility requirements and admission requirements for fashion design courses in Kolkata.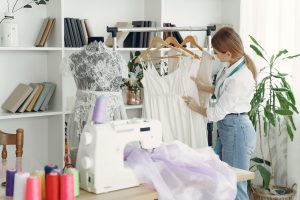 To be eligible for admission to a fashion design course in Kolkata, aspirants must satisfy certain requirements. Depending on the unique school or institution, the eligibility for fashion designing courses after the 12th may vary but typically include the following:
The majority of fashion design courses in Kolkata need candidates to have finished their 10+2 education or its equivalent. Some colleges could additionally have subject-specific criteria, such as a minimum number of subjects in the arts or design stream.
Some colleges may impose an age restriction on fashion design course applicants. This is often between 18 and 25 years old.
Typically, a portfolio of design work is expected as part of the application process. This can include sketches, drawings, and other creative work samples that demonstrate the applicant's design talents and aesthetics.
Many colleges in Kolkata require applicants to take an entrance exam. This could be a written or practical examination, depending on the institution.
As part of the admissions process, an interview with the admissions committee is often necessary. This enables the committee to evaluate the applicant's eligibility for the course and their potential as a fashion designer.
In addition to these broad requirements, candidates should investigate the unique requirements of the institutions they are considering. This might help to guarantee they meet all admissions requirements of their preferred fashion designing course.
How to choose the right fashion designing course?
Choosing the right fashion design courses in Kolkata for yourself can seem like a daunting task. With so many options available, it can be hard to know where to start. One of the best ways to determine which fashion design course is right for you is to research different options.
Read reviews, look at portfolios, and check out websites to get an idea of each course's curriculum, instructors, and alumni network. You can also reach out to previous students and ask them questions about their experience. After evaluating different courses, you can make an informed decision about the one that best fits your goals.
In addition to researching fashion design courses in kolkata, it's also important to consider your own personal learning style. Are you a visual learner? Or do you prefer to learn by doing? Depending on your preferred learning style, you may want to look for a course that provides lots of hands-on opportunities. Or perhaps you'd prefer an online course that focuses on visual learning. Taking the time to think about your learning style can help you make the right decision.
Finally, don't forget to factor in the cost of the course. While some courses are expensive, there are often more affordable options available. If you're on a budget, look for a course that may have lower tuition but still offers quality education. Ultimately, the right fashion design course for you will depend on your goals, budget, and learning style.
Conclusion
Choosing the right institute to pursue fashion designing from is very important. It will help you in your career and also equip you with the right skills and knowledge. A reputed and established institute will offer you a good curriculum, experienced faculty, industry exposure and good infrastructure. All these factors are important for your overall development as a fashion designer. Do your research before making a decision, and choose an institute that will help you achieve your goals.
If you are looking for a reputed fashion and interior design institute in Kolkata, then look no further than INIFT. With experienced teachers and an established brand, INIFT has a good track record. The institute offers a wide range offashion designing courses after graduation that cover both theoretical and practical aspects of fashion and interior design. The faculty is experienced, and the infrastructure is well-equipped to provide students with a holistic learning experience.
INIFT also has a good placement record, with many students getting placed in top companies after completing their courses. If you want to pursue a career in fashion or interior design, then INIFT is the institute for you.
Disclaimer- The information provided in this content is just for educational purposes and is written by a professional writer. Consult us to learn more about fashion design courses.