INTERIOR DESIGN AND MANAGEMENT STUDIES
---
Interior Design and Management Studies is an advance course that covers fundamentals of interior design, such as styling, preparing professionals for a career in the interior design and styling industry along with basic concepts of business management and entrepreneurship.
Best Interior Designing Institute in Kolkata.
.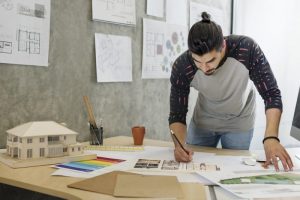 (An Interior Designer Working On a Project)
BASIC TOPICS COVERED IN THIS COURSE
---
The topics covered in the curriculum include Interior Designing, House Layout, Furniture and Furnishings, Furniture Design, etc. Changing market conditions in the industry have bolstered a need for highly professional, competent Interior Designers who can take up key positions as Interiors Designers, Stylists with Interior firms, Freelance Interior designers and Design Consultants.
OBJECTIVES OF THIS COURSE
Interior Designing Institute in Kolkata.
---
1. To prepare graduates to pursue careers as interior design educators, directors of interior design research, and/or practitioners of interior design.
2.To establish a graduate program that achieves national and international visibility.
3.To prepare them to work as an independent designer and turn them into an entrepreneur.
4.To assist them to set up their own Interior related business.
Along with this ———-
INIFT's unique 1 year assured internship enables students to get an advantage of
1. Gaining valuable work experience 
2. Develop and refine skills
3. Receive financial compensation
4. Network with professionals in the field
5. Gain good confidence
6. Transition into a job